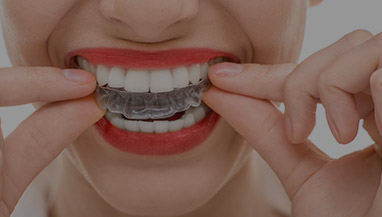 Dr. Bill Flora and our friendly staff is proud to offer Elkhart, Middlebury, Goshen, Mishawaka, and the surrounding areas with complete general, cosmetic, and sedation dentistry. In doing so, we offer a broad range of treatment options as each patient that walks through our door has their own unique bite. Growing in popularity, Clear Correct invisible braces is a proven method to get the smile you always wanted without people knowing that you actually have braces! If you're interested in a more discreet approach to straightening your teeth, continue reading to find out if Clear Correct is right for you.
Clear Correct Vs. Traditional Braces
Clear Correct's orthodontic aligners are a huge improvement over the metal braces traditionally used to straighten teeth. The completely clear dental aligners allow for a more natural smile throughout treatment. The 100% removable aligners let patients eat foods that were previously impossible with traditional braces. In addition, brushing and flossing is a breeze without the stress of metal wires getting in the way. The clear aligners are also more comfortable than their metal counterparts, and the plastic material is great for individuals who are sensitive or allergic to metal—gum swelling be gone!
How it Works
With dental technology getting more advanced, 3D printers can easily print out models of clear aligners throughout each step of the patient's orthodontic treatment. Each printed model is created with a digitized scan of the patient's mouth. This model is then thermoformed with a specially formulated plastic to create custom, clear aligners. When worn daily, these aligners will apply pressure to the patient's teeth that need to be moved. Every two or three weeks, the patient will receive a new set of aligners to further the realignment process until treatment is complete. In general, most patients achieve their desired results in about 12 months.
Contact Your Elkhart Dentist
Dr. Flora is a Clear Correct qualified dentist and will ensure your treatment goes as smoothly as possible. If you have been searching for an effective way to straighten your smile without hindering your appearance, speech, or comfort, look no further because Clear Correct is the way to go. If you have any questions concerning Elkhart cosmetic dentistry, please don't hesitate to contact our office. We look forward to meeting you and seeing you smile!